HDS™ PS1 Personal Monitor Prep. Station
Preparing HDS™ Personal Monitors for field sampling just became a lot easier with the HDS™ Personal Monitor Prep Station!
Simply attach an HDS™ Personal Monitor to the HDS-PS1 Prep Station and use a vacuum pump and cylinder containing Helium and BFT to evacuate, fill, evacuate, and fill the sampler. The personal monitor is now ready to be sent to the field. To clean samplers, simply evacuate, fill, and evacuate the samplers then place in an oven overnight at 70–100°C. Cool the samplers then follow the normal fill, evacuation, and fill process. Your samplers are now ready for the next field sampling event.
Two separate cylinder mixes are required by the laboratory for the preparation and analysis of HDS™ Personal Monitors.
HDS™ Preparation: A cylinder containing 1 PPM Bromofluorotoluene (BFT) in Helium is used to "charge" the samplers prior to sending them into the field. Since the BFT remains at the same concentration through the sampling process and delivery back to the laboratory, the BFT serves as an excellent recovery standard to validate leak-tight and inert conditions.
HDS™ Analysis: A second cylinder containing Fluorobenzene (FB) in Nitrogen at 1 PPM is used as an internal standard. Each HDS™ Personal Monitor is pressurized to 7psig (7psi above atmospheric pressure) either manually or automatically on the Entech 7650-L10, 7410D, or 7200A | 7650-M MillionAir™ System, providing an internal standard to verify the correct delivery of the sample to the GCMS.
The Helium/BFT standard utilizes a single stage high purity regulator, while the N2/FB cylinder uses a 2-stage high purity regulator to maintain a more constant 7psig to improve analytical precision. Lower concentration BFT and FB at 10 PPB are used when performing HDS™ sampling in larger canisters and Bottle-Vacs™ for high sensitivity measurements to low or sub-PPB levels.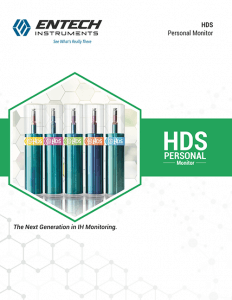 Get Product Pricing, Promotions, App Notes & More