Sub-Slab Soil Gas Monitoring
Sub-Slab & Vapor Intrusion Sampling
Monitor gasses directly under the slab of buildings to determine the potential for intrusion into the indoor environment. A vacuum tight seal is made through the building's foundation, with a unique "triple seal" using two O-rings and a water dam that ensures that only gasses from beneath the slab will be drawn into the sample train and canister. After sampling, the slab face sealing fitting is removed allowing either a temporary plug to be installed, or a permanent grout seal to be made.
Advantages
Most reliable, non-contaminating slab vapor seal on the market.
Shortest and most inert flow path ensures complete recovery and no sample carryover.
Chameleon controls the flow rate to avoid disturbing the equilibrium of VOCs between gas, adsorbed soil and dissolved water phases.
Avoids the use of contaminating plastic tubing. All surfaces are Silonite™ ceramic lined stainless steel to prevent outgassing of contamination while ensuring maximum compound recovery.
Compatible with Entech helium shroud for "complete flow path" leak testing right up to the canister.
Chameleon Soil Gas Sampler shown with Entech Slab-Tight™ Sampler.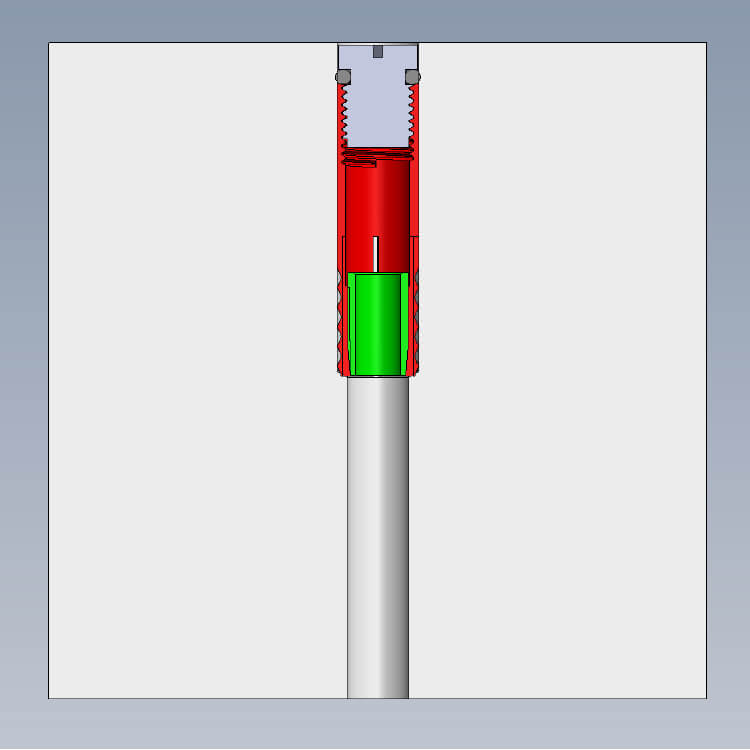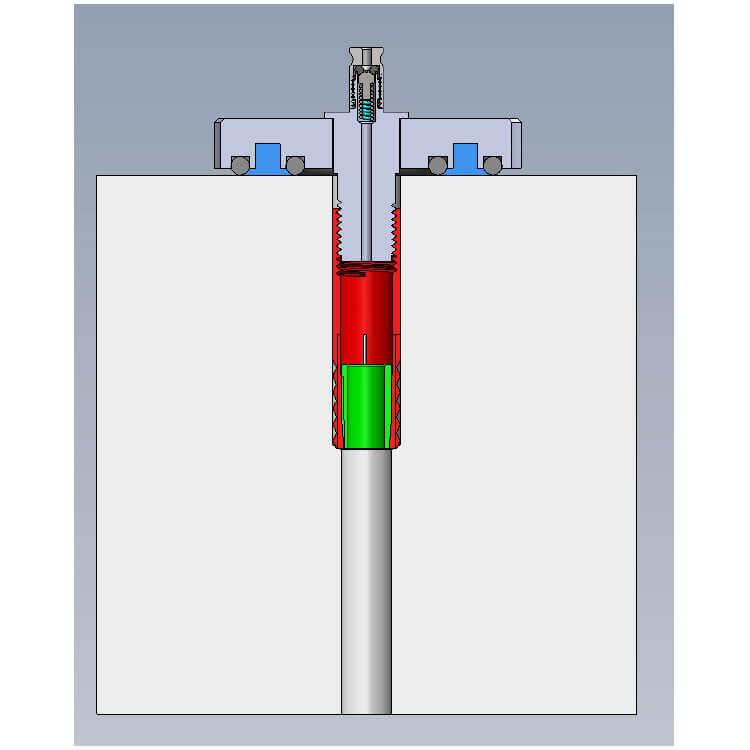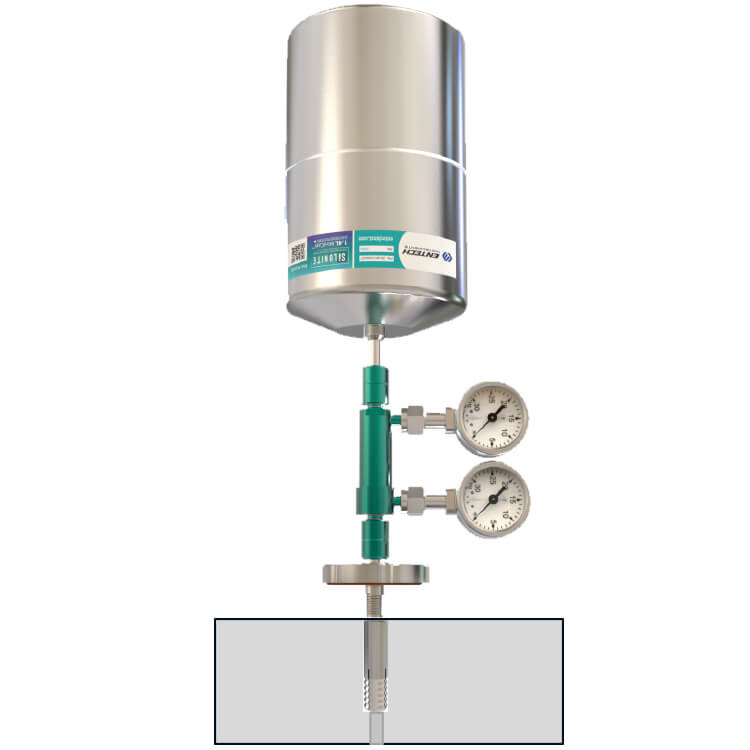 Entech Slab-Tight Sub-Slab Sampler
Entech's unique Slab-Tight™ sub-slab sampler eliminates interferences created by grout and other slab sealing materials.
Grout may contain contaminants that can positively bias the results.
Added Down-hole moisture from the grout may affect the solid/liquid/gas phase equilibria.
The Entech Slab-TightTM sub-slab sampler makes a mechanical connection and seals with no chance of contaminating the collected soil gas.
Tracer Gas Shroud for butane or helium leak checking is available.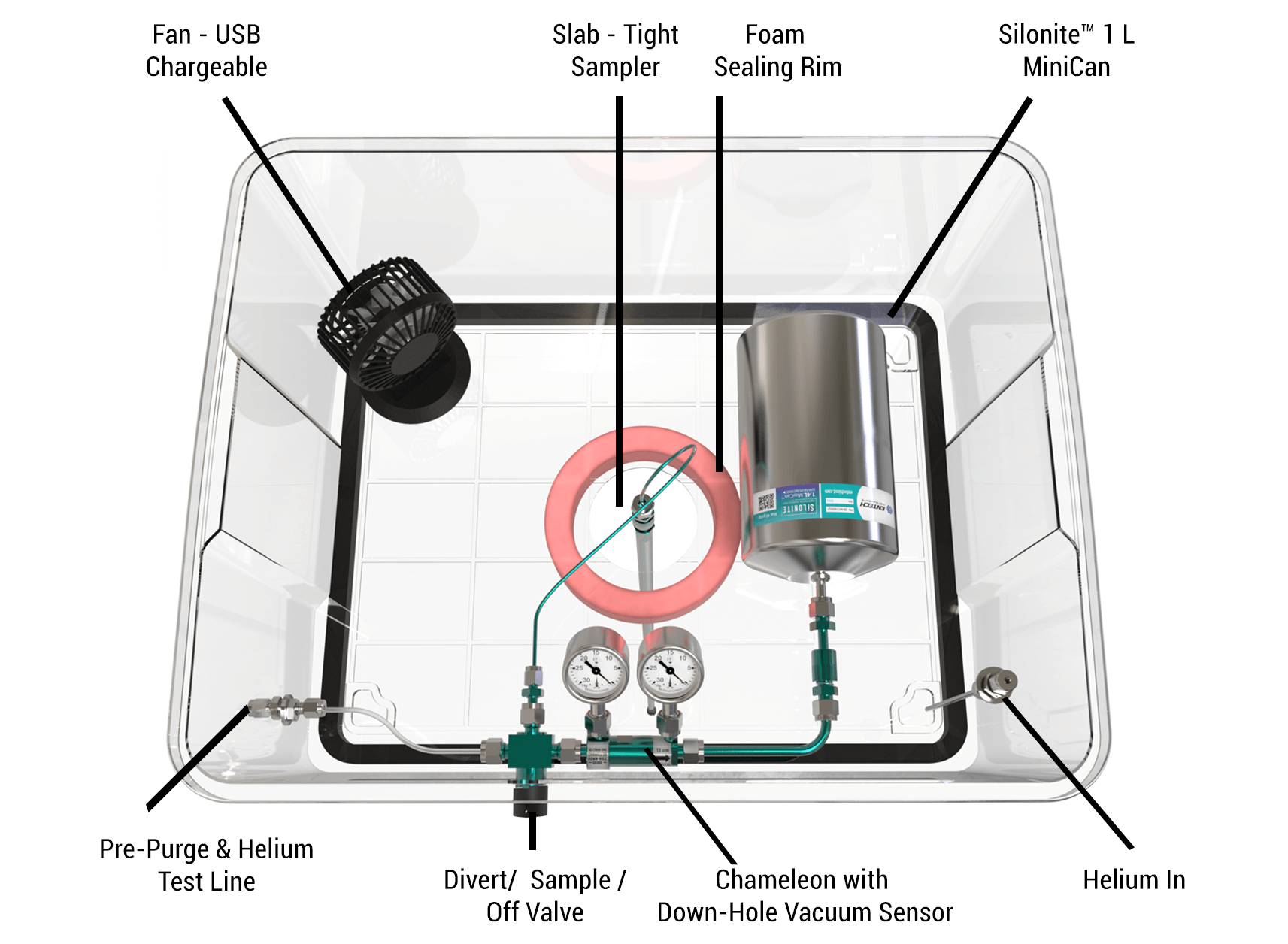 PN:SG-SHR-APVI
Soil Gas Shroud Leak Checking
Floods the entire sample train with helium during sampling.
Start sampling only after bringing shroud to optimum helium concentration as determined by helium detector.
Check helium coming out of sub-slab, probe, or well both during sampling, and afterwards by drawing sampling right out of canister (helium checking only).
No other technique tests the final canister directly, making it impossible to miss leaks!!!
Sub-Slab Canister Sampling Kit
| | |
| --- | --- |
| Sub-Slab Vapor Intrustion Canister Sampling Kit (50cc/min) (600cc, 1L or 1.4L Cans sold seperatley) | SG-SS-50-KIT |
| Anchor, wedge and plug kit | SG-SS-AWP-KIT |
| Tool to expand anchor into the concrete | SG-SS-Expander |
| Bonnet with QT Fitting and Water Dam | SG-SS-Bonnet-QT |
| Bonnet Wrench -Tightens and releases Bonnet to Concrete | SG-SS-Bonnet-Wrench |
| 50cc/min Chameleon with 1/4" Tube Inlet & 1/4" Comp Outlet | SG-CHAM-QQ-050 |
| Down-Hole Vacuum Gauge for pressuring vacuum below ground soil | SG-CHAM-DHG |
| 50cc plastic preflush syringe and needle | 07-20050 |
| | |
| --- | --- |
| Indivual Parts | Part # |
| Slab Anchor & Plug Kit - Not reuseable. One needed per Installation | SG-SS-AWP-Kit |
| Shroud Foam Sealing Ring | SG-SHR-RNG |
| Dual Canister Adapter w/ 2 Female Micro-QT™ Valves | 39-99014QT |
| 600mL MiniCan with Micro-QT™ Valve | 29-MC600QT |
| 1L Silonite MiniCan | 29-MC1LQT |
| | |
| --- | --- |
| Sub-Slab Vapor Intrusion Canister Sampling Kit (50cc/min) w/ Tracer Gas Shroud (600cc, 1L, or 1.4L Cans sold seperately) | SG-SS-SHR-50-KIT |
| Anchor, wedge and plug kit | SG-SS-AWP-KIT |
| Tool to expand anchor into the concrete | SG-SS-Expander |
| Bonnet with QT Fitting and Water Dam | SG-SS-Bonnet-QT |
| Bonnet Wrench -Tightens and releases Bonnet to Concrete | SG-SS-Bonnet-Wrench |
| 50cc/min Chameleon with 1/4" Tube Inlet & 1/4" Comp Outlet | SG-CHAM-TC-050 |
| Down-Hole Gauge for measuring vacuum below ground soil | SG-CHAM-DHG |
| 50cc plastic preflush syringe and needle | 07-20050 |
| Tracer Gas Shroud for Butane or Helium | SG-Shroud |
| 1/8" Silonite line from Probe to 3-Way, w/ FMQT & 1/8" to 1/4 Tube Adapters | SG-SHR-APVI |
Sub-Slab Canister Sampling Kit
| | |
| --- | --- |
| DESCRIPTION | PART# |
| Monitoring Well Kit | SG-SS-SP-10-KIT |
| Anchor, wedge and plug kit | SG-SS-AWP-KIT |
| Tool to expand anchor into the concrete | SG-SS-Expander |
| Bonnet with Sorbent Pen Port and Water Dam | SG-SS-Bonnet-SP |
| Tightens and releases Bonnet to Concrete | SG-SS-Bonnet-Wrench |
| Diffusive Air Monitoring Sorbent Pen /w Tenax | SP-DSP-T3560* |
| 1L Silonite MiniCan (vacuum draws sample into Pen) | 29-MC1LQT |
| 10cc/min Chameleon w/ dual Female MQTs | SG-CHAM-QQ-010 |
| Down-Hole Vacuum Gauge | SG-CHAM-DHG |
| 50cc Water Dam Syringe | 07-20050 |
| Anchor, Wedge, and Plug Kit (One time use) | SG-SS-AWP-KIT |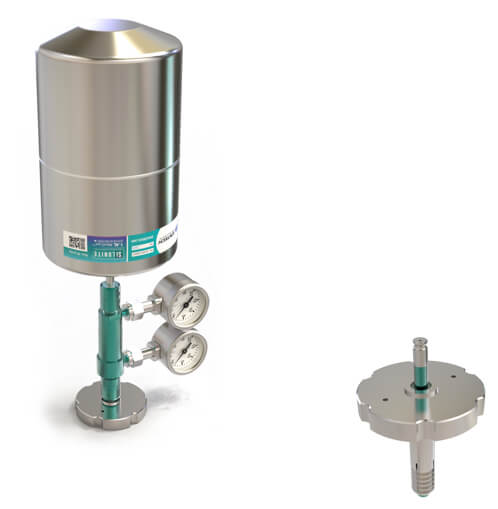 SVOC Recovery During Vapor Intrusion Sampling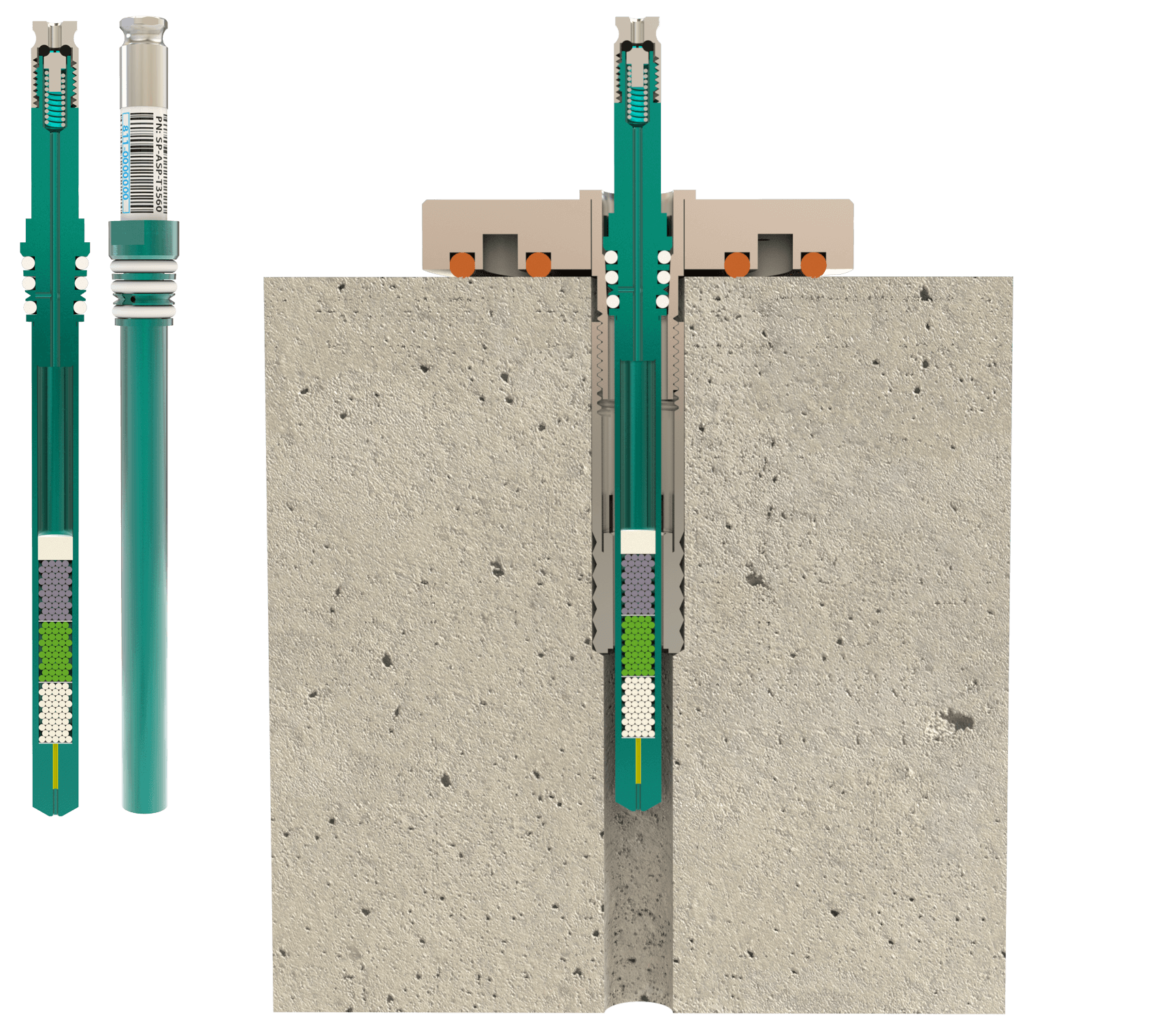 SVOCs will not transfer through lines or come out of canisters quantitatively The correct adsorbent must be chosen to allow collection and then release by thermal desorption in the laboratory The Sorbent Pen allows either diffusive sampling over a period of days or weeks, or active sampling by connecting the Chameleon and a canister of 1 to 6L in volume Active sampling will provide a better indication of the concentration of PCBs, Dioxins, Diesel and other SVOCs actually in the soil gas
Indoor Air Quality Test Kit
| | |
| --- | --- |
| DESCRIPTION | PART# |
| 24 Hour Sample - 6L Canister | IAQ-60S-24-KIT |
| 6L Can coated TOV-2 Valve | 29-10622 |
| Coated Flow Controller | 39-CS1200ES4 |
| 24 Hour Sample - 3.2L Canister | IAQ-32S-24-KIT |
| 3.2L Can with coated TOV-2 Valve | 29-10322 |
| Coate Flow Controller | 39-CS1200ES4+ |
24 Hour Kits are available for 600cc and 1L canister sampling