A New Era in Canister Analysis Has Arrived
Entech has been developing new technology to improve canister methodology for 32 years, and our latest announcement is perhaps the greatest single  advancement in canister analysis during that time. The new SkyCan™ Autosampler represents a giant leap forward in bringing today's canister laboratory inline with other GCMS laboratories, by getting canister samples above the GCMS, and maximally close to the GC or sample preconcentrator prior to sample preconcentration and analysis. The SkyCan improves system integrity by eliminating the sample to sample variability inherent in multi-inlet, rotary stream select valve autosamplers, where background within each line is not only variable, but is hard to minimize due to the long residence times of the samples in the inlet lines. With system  background requirements continuing to drop, rotary valve based autosamplers really cannot reliably achieve these low blank levels, and labs really cannot offer sample analysis to low part per trillion levels when they cannot prove blank levels on a line by line bases. Can you imagine having to blank check every autosampler inlet line, every day? With the SkyCan it's easy, as running a normal system blank will instantly and completely check 100% of the sample inlets, because there is only one inlet!!!! How easy is that?? This eliminates the need to make assumptions about system hygiene, by directly proving it… daily, or more often as needed.
Next Generation Features to Put your Lab Ahead of the Competition
No bench or floor space required for samples. All are placed above the GCMS, the preconcentrator, and the data system.

Fully automated rail system with magnetic sensing of tray and canister sampling platform positions.

Trays are available to handle all Entech canister sizes 2.5L and smaller, as well as 500cc and 1L Bottle-Vacs

Analyze 36 of the new Entech 2.5L ambient sampling canister, with remarkably advanced Silonite-XL coating that significantly increases canister inertnes. The new 2.5L canisters meet or exceed every requirement of the new US EPA TO-15A method.
Heated transfer line length to preconcentrator only 2' long to reduce surface interactions, improving run to run consistency.

Inlet transfer line is vacuum cleaned immediately after exposure to the sample.

SkyScreenTM option uses a completely different flow path to perform high throughput screening with zero chance of carryover.

Fully integrated into Entech's latest preconcentrator control software
Introducing the Entech 2.5L Silonite-XL Sampling Canisters
Entech is introducing a new canister that is large enough to meet low level TO-15/TO-15A detection limits, yet more compact and efficient than 6L canisters. The 2.5L Silonite-XL Sampling Canister was made to save lab space and reduce shipping costs without sacrificing analytical sensitivity and accuracy. When performing time integrated sampling to within 2-8mm Hg of atmospheric pressure, Entech's 2.5L Silonite canister contains 1900 – 2330 mL of sample, which is plenty to withdraw the TO-15A recommended volume of 250mL "3 times" using an Entech 7200, 7200A Fast GCMS, or Cryogen-Free 7200CTS preconcentrator. Considering the Entech CS1200E combined with the Flow Professor Calibrator can consistently fill a canister to 2-5 inches Hg, sample volumes collected will be over 2100cc. In addition, since the CS1200E7 can fill a 6L canister over a 1 month period, the same flow controller can be calibrated by the Flow Professor to fill a 2.5L canister over 2 full weeks, and the E4+ and E6 versions can fill the 2.5L canisters over a 24 hour or 1 week period, respectively.
Therefore, Entech 2.5L canisters offer a large enough volume to perform long sample integration times while providing plenty of sample for multiple analyses, which should meet the requirement of virtually any air lab. The 2.5L canister is only 5.2" in diameter, rather than the 9" consumed by 6L canisters, which not only saves lab space but allows as many as nine of the 2.5L canisters to ship in the same box used to ship just four 6L canisters.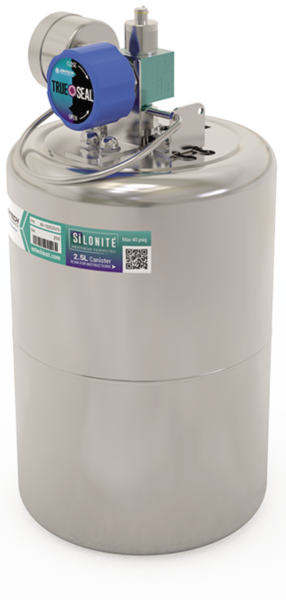 Entech is continuing to improve on the number one canister coating available, the number one canister coating available, and recent improvements have further  improved compound storage life and cleanability of our latest Silonite coated canisters. Silonite will NOT degrade over time like unlined electropolishied only canisters, and is far more like the inside of a GC column, providing optimum stability of the greatest range of compounds possible. The latest Silonite coating is ready for the  challenges of meeting the more stringent US EPA Method TO-15A requirements. Don't take a risk using anything else!!!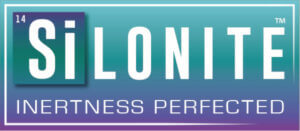 Get Product Pricing, Promotions, App Notes & More