Silonite Canisters with the NEW toxic Organics Valve (TOV-2)
Entech's Silonite® canisters feature a large volume capacity for detection of volatile chemicals down to the low part per trillion range. An inert and durable internal Silonite® coating provides a high-quality, long-term sample storage solution. Losses in the valve are avoided by using our new Toxic Organics ValveTM (TOV-2TM) which includes Entech's new "sure-seal" technology and low carryover, replaceable nickel ferrules. An integrated valve guard is securely welded to the canister for superior light-weight valve protection without any stresses to the valve stem associated with heavy "strapped-type" valve guards. These canisters are certified to meet or exceed the technical specifications required for EPA methods TO-14a and TO-15. High quality performance is verified for EVERY canister with our demanding chemical inertness tests.
Silonite Classical Canister Applications
Field Canister Testing
We are the only manufacturer to offer the unsurpassed range, quality, and reliability of McDaniel Controls, Inc. gauges with ¼" compression fitting. The compression fitting connects easily to a dual stem canister, or our new dual port TOV-2TM without any need for Teflon® tape for improved canister cleanliness.
[blockquote align=""]You can also choose to verify sample integrity in the field with the precision and reliability of the DDSTM Gauge. The digital gauge shown below features absolute pressure readings that are never affected by altitude![/blockquote]
We also offer high quality McDaniel® Gauge assemblies for easy field testing of standard TOV-2TM equipped canisters that do not have the included gauge option or a dual stem with an attached gauge.
Download the Canister Spec Sheet!
Want to learn all the details of our MiniCans? Download the Spec Sheet here! We detail the sizes and the variations of valve options so you can customize your order however you'd like to!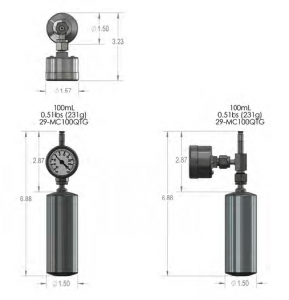 I am raw html block.
Click edit button to change this html
Entech Silonite Canisters
Learn all about the full range of Classical and Mini Canister sizes, along with the various Entech Valves and applications! There are many hidden advantages to using inert canisters for sampling that are discussed in this brochure.
Get in contact with us so we can give you product updates & more!