Analyze vapor-phase volatile compounds with unmatched precision.
The 7200 Preconcentrator represents the next generation in GCMS sample preparation systems for the analysis of vapor-phase volatile compounds. The 7200 takes the industry standard, 7100A's 3-stage preconcentration and water management technology, and elevates it to a whole new level. Many of the past limitations often seen in rotary valve based devices are now eliminated by combining digital valve isolation control with advanced robotic autosamplers, dropping the potential for carryover and cross-contamination far below previously obtainable levels.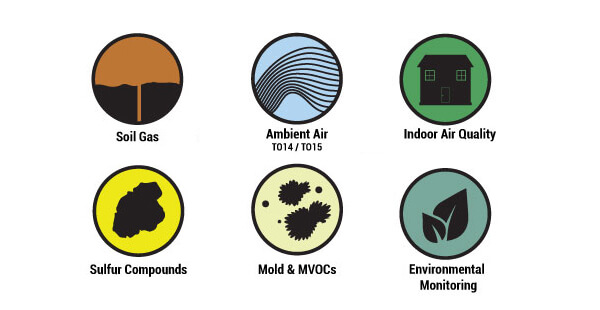 Silonite-D® provides amazing inertness and durability you can trust!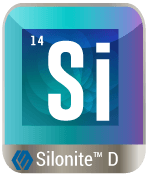 U2lsb25pdGUtRCUyNiUyM3gyMTIyJTNCJTIwQ29hdGVkJTIwRmxvdyUyMFBhdGhz
Superior volume measurement at 10cc volumes, while reducing cross contamination and carryover.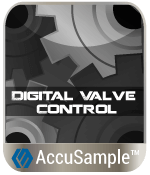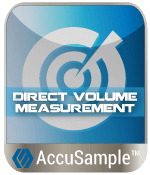 QWNjdS1TYW1wbGUlMjYlMjN4MjEyMiUzQiUyMFRlY2hub2xvZ3k=
Volumes from 1–1000cc. Digital flow path management for improved system hygiene and precise volume determination of complex gas matrices including: Landfill Gas, Helium Diffusion Sampling, High Methane, and more!
UXVhbnRpdGF0aXZlJTIwTWVhc3VyZW1lbnRz
Calibrate over a factor of 1000X while meeting EPA linearity requirements. This means fewer reruns.
VWx0cmEtV2lkZSUyMENhbGlicmF0ZWQlMjBEeW5hbWljJTIwUmFuZ2U=
Supports extended cold trap dehydration, microscale purge & trap, and dry purge water management techniques for unrivaled flexibility and maximum compound class recovery.
RUNURCUyMCUyRiUyME1QJTI2YW1wJTNCVCUyMCUyRiUyMERyeSUyMFB1cmdl
All-new cryo-modules and external bulkhead heaters reduce cold spots, improving performance. Easy access for component replacement.
QWR2YW5jZWQlMjBNb2R1bGFyJTIwRGVzaWdu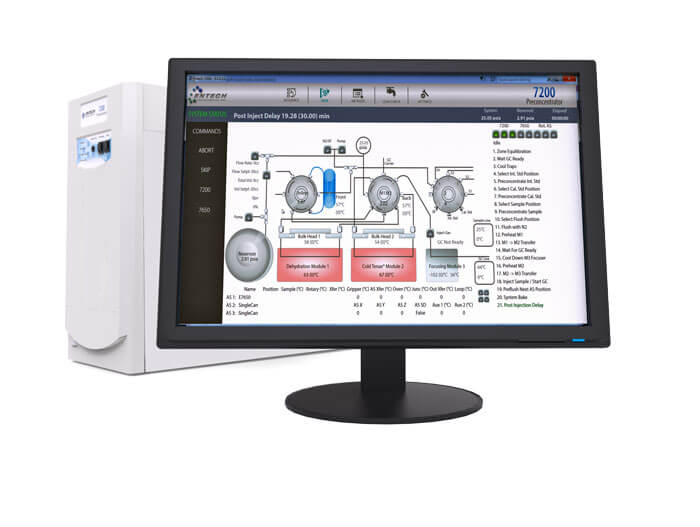 Powerful & Intuitive Software
The 7200 comes equipped with tools for validating system performance, including the ability to perform automated leak checking and matrix spiking. Critical parameters are recorded during each sample preconcentration to verify proper system operation, such as trapping flow rates, flow volumes, trap pressure drop, trapping temperatures, water management parameters and much more. Data is stored for easy integration with Laboratory Information Management Systems (LIMS).
Ultra-Inert Flow Paths
A Silonite-D™ coated flow path throughout the 7200 virtually eliminates unwanted chemical reactions, ensuring complete recovery of volatile and light semi-volatile compounds.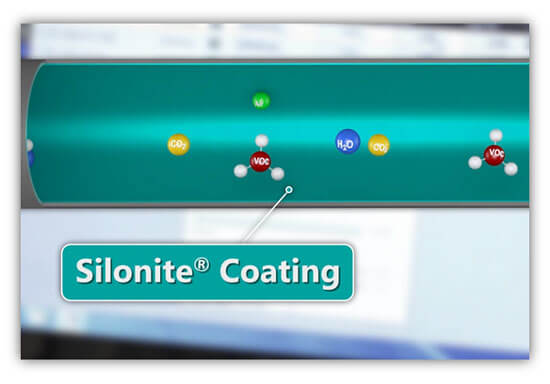 Advanced Water & CO2 Management
The 7200's advanced water & CO2 management technologies provide superior recovery of polar and non-polar organics, while the inert heated flow path allows analysis of hydrocarbons in the range of C2 – C18
Accu-Sample™ Technology
Accu-Sample technology combines digital valve control with direct volume measurement rather than indirect time integrated flow measurements to allow better small volume accuracy down to 10cc over a wider pressure range while allowing air and non-air matrices to be analyzed accurately.
7650-M "Million Air" System
Introducing the most advanced instrumentation ever developed for analysis of volatile and light semi-volatile compounds in air and soil gas. Now, analyze any size canister in your inventory with the quality assurance of direct inlet robotics. The 7650-M features the new MillionAir™ option that includes the ability to perform rapid screening of samples without exposure to the 7200 Trapping system, thereby maintaining far superior system hygiene relative to other preconcentration systems.
7200 | 7016D Air Toxics System
The 7200 paired with the 7016D creates an excellent solution for 2.7, 3.2, 6L, and 15L canisters used for ambient level air toxics analysis in compliance with EPA Methods TO-14a and TO-15. The 7200's 4-sample inlet can accommodate the simultaneous connection of up to three 7016D autosamplers to maximize unattended canister analysis.