POSTER: Vacuum Assisted Sorbent Extraction (VASE) Thermal Desorption-GC-MS: A Robust, Solvent-Free Technique for Chemical Residue Analysis
Authors: Sage J. B. Dunham, Victoria L. Noad, Bailey S. Arakelian & Daniel B. Cardin
Overview
In the 30 years since the invention of solid phase microextraction (Belardi & Pawliszyn, 1989), headspace (HS) extraction has developed into a powerful family of techniques for both targeted and untargeted chemical analysis of volatile and semi volatile compounds.

We recently developed a static HS sampling approach, termed vacuum assisted sorbent extraction (VASE), in which the sample is positioned in a disposable sample vial and placed in a reduced pressure environment with a packed headspace sorbent pen (HSP).

Here we describe the methodology behind VASE as well as the application of the technique to examine the chemical composition of a wide assortment of liquid and solid samples.

Example applications are shown in the areas of environmental contamination, cannabis consumer products (e.g., edibles, flower), forensics, and alcoholic beverages.
Attached Files
| File | Action |
| --- | --- |
| POSTER: Vacuum Assisted Sorbent Extraction (VASE) Thermal Desorption-GC-MS: A Robust, Solvent-Free Technique for Chemical Residue Analysis | Download |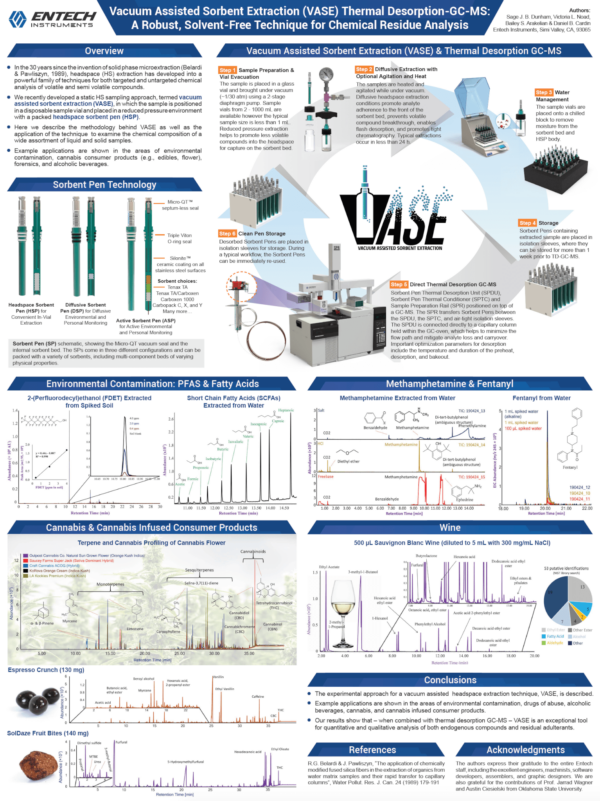 Version
Download

424

File Size

1.89 MB

File Count

1

Create Date

July 24, 2019

Last Updated

February 15, 2023