POSTER: Trace-Level Quantification of SVOCs in Water via Vacuum Assisted Sorbent Extraction (VASE) Thermal Desorption-GC-MS
Authors: Sage J. B. Dunham, Victoria L. Noad, Bailey S. Arakelian & Daniel B. Cardin
Overview
Current analytical methods for evaluating volatile and semi volatile organic compounds (VOCs & SVOCs) in water often require large sample volumes (1 L or more), are labor intensive, and rely upon liquid-liquid extraction into organic solvents.
Here we present a sensitive, solvent-free method – termed vacuum assisted sorbent extraction (VASE) – for extraction and pre-concentration of VOCs and SVOCs in preparation for thermal desorption-GC-MS.
In VASE, the sample (often 1 mL or less for water) is evacuated in the presence of a headspace sorbent pen (HSP), which is a vacuum-tight cartridge containing sorbent. In combination with optional heat and agitation, the static reduced pressure environment promotes compounds into the headspace for adherence to an internal sorbent bed.
Here we demonstrate the application of VASE for extraction and quantitation of several water pollutants routinely analyzed by EPA method 8270. Compounds with boiling points ranging from 80°C to over 550°C are examined, including 2-6-ring polyaromatic hydrocarbons, phenols, pesticides, chlorinated hydrocarbons, and disinfection by-products.
Attached Files
| File | Action |
| --- | --- |
| POSTER: Trace-Level Quantification of SVOCs in Water via Vacuum Assisted Sorbent Extraction (VASE) Thermal Desorption-GC-MS | Download |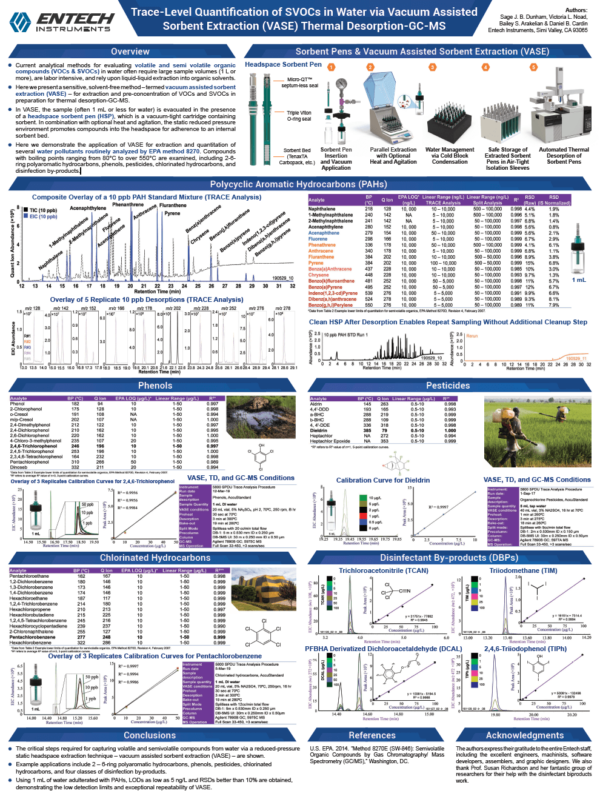 Version
Download

407

File Size

1.89 MB

File Count

1

Create Date

July 30, 2019

Last Updated

February 15, 2023