POSTER: Solvent-Free Terpene & Cannabinoid Profiling of Cannabis Consumer Products using Vacuum Assisted Sorbent Extraction (VASE) Thermal Desorption-GC-MS
Authors: Victoria L. Noad, Sage J. B. Dunham, and Daniel B. Cardin
Overview
Due to recent legislative changes, consumption of cannabis products are becoming accepted as a medical treatment and a mainstream recreational product worldwide including many US states and Canada.  
Reliable analytical methods are critical to ensuring consistent dosing, efficacy, and safety.
Current techniques include liquid-liquid extraction followed by LC or GC-MS analyses, which generate solvent waste and require multiple laborious steps. 
Vacuum Assisted Sorbent Extraction-Thermal Desorption (VASE-TD) is a solvent-free headspace extraction and sample introduction technique developed for GC-MS analyses. 
Results demonstrate that VASE-TD-GC-MS offers a quick and sensitive approach for both qualitative and quantitative determination of terpene and cannabinoid profiles of cannabis flower and cannabis infused products. Full profiles were extracted using VASE in  as little as 1 minute to distinguish different strains with cannabinoid ratios consistent with the manufacturer labels.
Attached Files
| File | Action |
| --- | --- |
| POSTER: Solvent-Free Terpene & Cannabinoid Profiling of Cannabis Consumer Products using Vacuum Assisted Sorbent Extraction (VASE) Thermal Desorption-GC-MS | Download |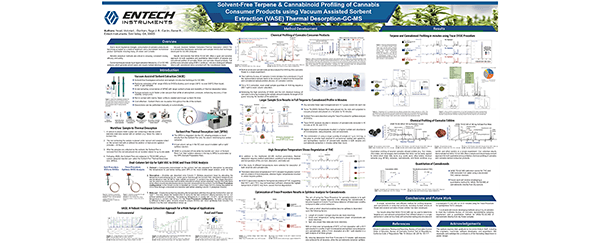 Version
Download

547

File Size

1.89 MB

File Count

1

Create Date

July 3, 2019

Last Updated

February 15, 2023