ABSTRACT
A stainless steel canister based method has been developed to measure both VOCs and light carbonyls in indoor air using a single GCMS analysis. MiniCan stainless steel samplers collect the sample using either a quick five second fill technique (grab sample) or by maintaining a slow constant flow into the canister which gives the average concentration of contaminants in air over time. The vacuum in the MiniCan samplers is used to draw in the sample, eliminating the need for sampling pumps or a source of power (AC or batteries). A new coating called SiloniteTM on the inside of the MiniCan samplers provides an ultra inert surface that prevents the adsorption of analytes. This makes the MiniCan an ideal choice for sampling reactive compounds, and performing site investigations where a more universal technique is needed to detect anything that may be present.
The analysis of MiniCans is performed by GCMS using a preliminary preconcentration step to improve method sensitivity. Up to 100cc of sample is concentrated down to a few microliters and injected rapidly onto a GC capillary column for analyte separation and detection by a mass spectrometer.
SiloniteTM coating throughout the preconcentrator's internal tubing allows a wide range of compounds to be recovered and quantified down to 1-2 PPB(v) in a single analysis.
This application note details the use of MiniCans for sampling and analysis of formaldehyde, light carbonyls, and common VOCs in the concentration range commonly found in indoor air (1-200 PPBv). Included in the study is storage testing in MiniCans, analytical reproducibility, response linearity, and analyte detection limits.
| File | Action |
| --- | --- |
| Formaldehyde and VOC's in Indoor Air Quality Determinations by GCMS App Note | Download |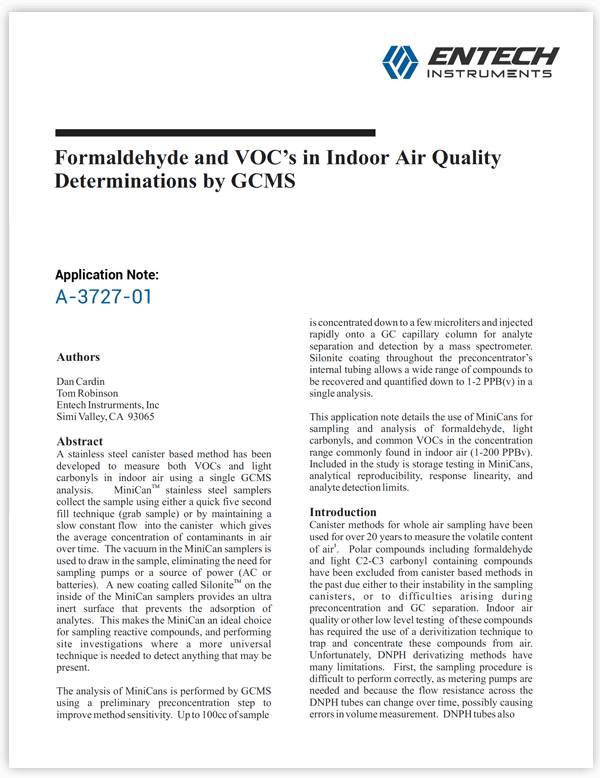 | | |
| --- | --- |
| Version | |
| Total Files | 1 |
| Create Date | September 24, 2015 |
| Last Updated | November 28, 2018 |