The CS1200E is a high-purity flow regulation system designed to reliably fill canisters at a constant rate from vacuum to within 1 psi of atmospheric pressure without requiring any power.
The Flow Professor is the easiest and most precise way to program it.
Introducing the all-new Flow ProfessorTM, the easiest and most accurate way to calibrate your Entech CS1200E field samplers. Using the latest CS1200E technology, the Flow ProfessorTM automates the complete calibration process for sampling into canisters as small as 450mL and as large as 15L. From within the easy to navigate Flow ProfessorTM software, simply set canister size, sampling duration, and the remaining canister vacuum desired at the conclusion of sampling (typically 2"Hg); then attach the Flow ProfessorTM to the front of the CS1200E and select Start Calibration from the software menu. The Flow ProfessorTM system proceeds to automatically adjust the flow setting of the CS1200E to obtain the ideal flow rate, every time.
Attempting to achieve such precise calculations and flow controller adjustments manually would be difficult and time consuming at best. The Flow ProfessorTM makes it all easy!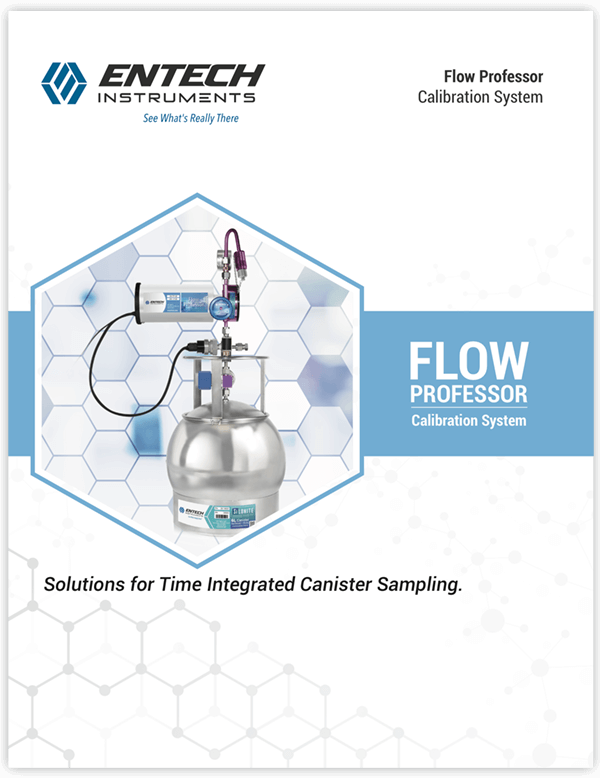 | | |
| --- | --- |
| Version | |
| Total Files | 3 |
| Create Date | April 27, 2016 |
| Last Updated | June 30, 2022 |