POSTER: Chemical Profiling of Cannabis Infused Products using Solvent-Free Headspace Extraction and Thermal Desorption GC-MS
Authors: Sage J. B. Dunham, Victoria L. Noad, Bailey S. Arakelian & Daniel B. Cardin
Overview
A solvent free headspace extraction approach – vacuum assisted sorbent extraction (VASE) – is applied in combination with thermal desorption (TD)-gas chromatography-mass spectrometry (GC-MS) to examine the chemical composition of cannabis and cannabis infused consumer products.

 

Application of VASE for qualitative profiling of cannabis infused edibles (e.g., gummies, chocolates) reveals

 

the presence of residual solvents, flavor additives (e.g., vanillin), and active cannabinoids.
VASE

 

profiling of cannabis flower demonstrates strain-to-strain differences in monoterpenes, sesquiterpenes, and cannabinoids.
Cannabinoids are efficiently extracted only when both heat and vacuum are applied.
Attached Files
| File | Action |
| --- | --- |
| Poster: Chemical Profiling of Cannabis Infused Products using Solvent-Free Headspace Extraction and Thermal Desorption GC-MS | Download |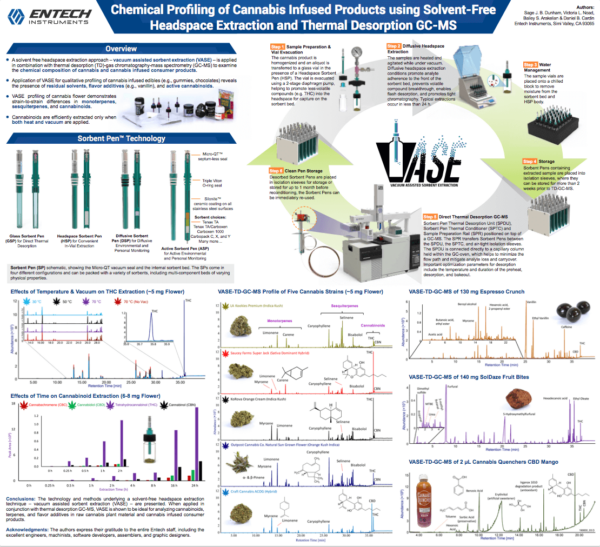 Version
Download

443

File Size

1.89 MB

File Count

1

Create Date

September 5, 2019

Last Updated

February 15, 2023