VASE - Vacuum Assisted Sorbent Extraction Odor, Pesticide, & PAH Analysis for Dairy Products
Overview
The headspace of common dairy products, including chocolate chip cookies, cheese, and milk were analyzed utilizing a new solvent-free technique called Vacuum Assisted Sorbent Extraction (VASE).
Dairy products are typically challenging to analyze using headspace techniques due to the low volatility of many compounds of interest, and the high-fat content, which creates a high affinity for most organic compounds to the sample matrix. Most headspace techniques do not yield much information from fatty matrices, leaving solvent extraction as the only effective technique which recovers low-level flavor and odor compounds, as well as contaminants such as polycyclic aromatic hydrocarbons (PAHs).
VASE enables reproducible headspace extractions of VOCs to SVOCs, including low volatility compounds with minimal matrix effects, therefore increasing the number of applications compatible with headspace analysis. Heavy volatile compounds with low vapor pressures having little to no response by SPME are extracted 10-50x more efficiently with reproducible recoveries. The top of the Sorbent Pen outside of the vial contains a seal which allows the vial to be evacuated through the adsorbent immediately after insertion. Once under vacuum, the VOCs and SVOCs can diffuse into the headspace and onto the adsorbent faster than when extraction is performed at atmospheric pressure. VASE allows the sample and headspace to come to an equilibrium in a closed system, causing analytes to diffuse onto and collect at the front of the adsorbent bed. Therefore, VASE achieves a much better recovery of heavier compounds while eliminating the common carryover issues.
Attached Files
| File | Action |
| --- | --- |
| VASE - Vacuum Assisted Sorbent Extraction Odor, Pesticide, & PAH Analysis for Dairy Products App Note | Download |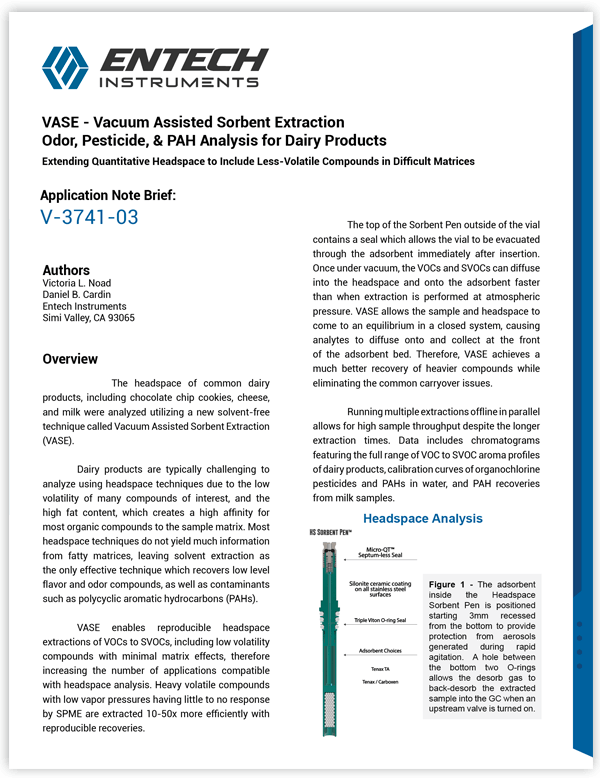 Version
Download

807

File Size

1.51 MB

File Count

1

Create Date

November 29, 2017

Last Updated

February 15, 2023