Headspace Sorbent Pens™ & VASE
Ultimate Extraction Power For Next Generation Headspace Analysis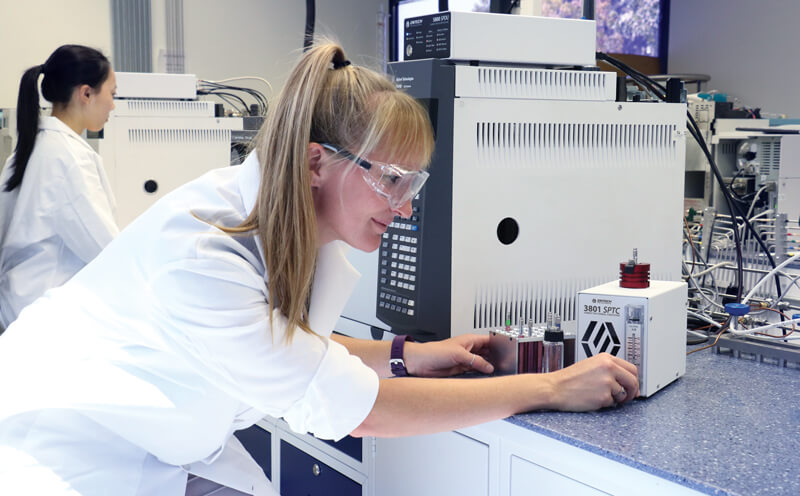 A revolutionary leap in GC & GCMS sample prep technology.
Introducing Entech's exciting new Sorbent Pen™ technology. The most versatile extraction and sample preconcentration technology available for GC and GCMS. Sorbent Pens™ combine the features of SPME and classical ¼" adsorbent traps in a design with far more flexibility and enhanced performance. Sorbent Pens™ are extremely durable and are designed to perform both active and diffusive sampling. The Sorbent Pen™ is then desorbed directly onto the head of a GC column to eliminate losses associated with standard thermal desorption systems that must transport the desorbed sample through rotary valves, secondary traps, and lengthy transfer line prior to delivery onto the GC column.
The Sorbent Pen™ uses an entirely new approach for sample extraction. Direct insertion of the Sorbent Pen™ with its internal adsorbent into the vial headspace allows a new technique called "Vacuum Assisted Sorbent Extraction", or VASE, to recover a far wider range of compounds than ever before.
Read MoreMinimize
With Sorbent Pens™, both VOCs and SVOCs can be measured in wastewater, breath condensate, alcoholic beverages, and virtually all other matrices. VASE offers a tremendous advantage over other extraction techniques that perform extractions at atmospheric pressure where diffusion rates are suppressed. Sorbent Pens™ perform sample enrichment offline from a GCMS, allowing all samples to extract simultaneously and for longer periods of time. This approach results in high throughput while yielding a more complete and reproducible extraction for more sensitive and quantitative measurements. The low cost 5800 Sorbent Pen™ Desorption Unit (5800 SPDU) makes this exciting new technique both affordable and practical for virtually any laboratory's budget. Then move up to 90 sample automation with the 7800 Autosampler for the ultimate in laboratory productivity. Join the Sorbent Pen™ movement and take advantage of the next generation in GCMS sample preparation.
Flavors & Aromas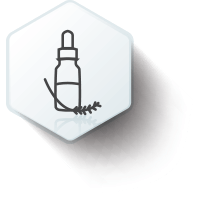 Food Safety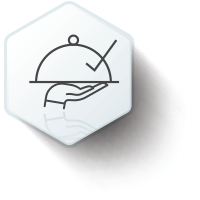 Pharmaceuticals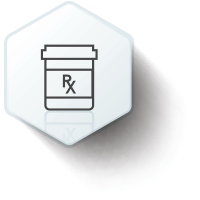 Water Testing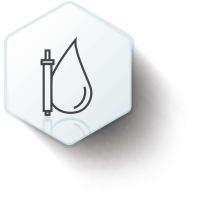 Clinical Diagnoses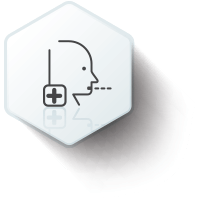 Your state-of-the-art MS with 1-3% reproducibility can become a slot machine without proper sample preparation and extraction. Entech Sorbent Pens and VASE extraction technology eliminate the variables that have plagued chromatographers for decades.
Huge Advantage over SPME and Dynamic Headspace Trapping
Highly reproducible.

Very low carryover.

Durable – hundreds of injections.

Operates at or near equilibrium to improve sensitivity and quantitative accuracy.

Perform exhaustive vacuum extraction of VOCs through SVOCs.

Unlike SPME, Outer sheath minimizes exposure to aerosols formed during agitation.

See taints, odors, additives, flavors & fragrances at levels below previously possible.

Faster injection rates produce better chromatography / less thermal degradation.

Rapid injections without cryogen or electronic cooling.

Usually requires no secondary bakeout/cleanup.

Higher sensitivity and throughput via o-line extraction.

Sample up to 2 days under vacuum for unsurpassed SVOC recovery.

Sample at elevated or sub-ambient temperatures as needed.
Sorbent Pens™ using Vacuum Assisted Sorbent Extraction (VASE) recover compounds starting even lighter than SPME, and out to nearly those recovered by SBSE
Most applications done by either SPME or SBSE can be done more easily and usually with higher sensitivity and accuracy with VASE using Sorbent Pens™
VASE (Sorbent Pens™) vs SPME and SBSE (Twister™) Recovery Relative to Analyte Volatility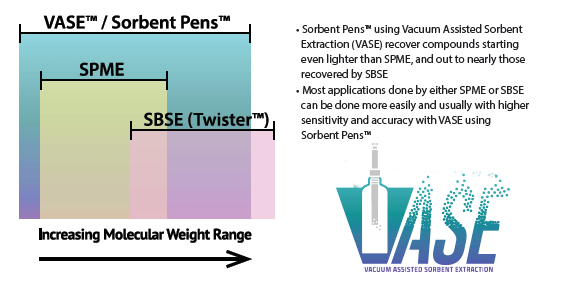 Operating at or near equilibrium increases sensitivity and reduces run to run variability
Small movements back and forth on curve for VASE as the samples approach equilibrium causes little change in recoveries, and therefore reproducibility.
VASE using Sorbent Pens™ Operates at or Near Equilibrium to Improve Sensitivity and Reproducibility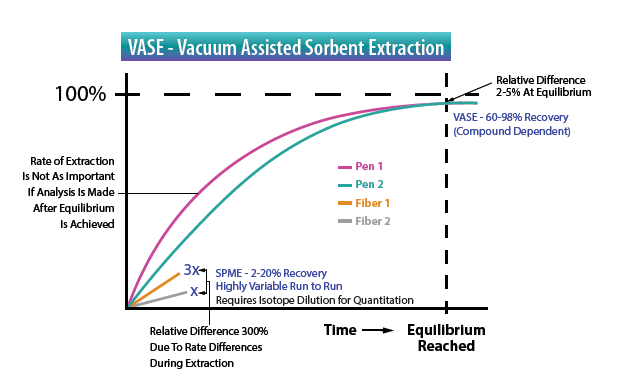 Reliable, productive chromatography demands sample preparation that is straightforward, cost-effective, and reproducible.
Sample processing can account for a third of errors generated by chromatographic analysis and accounts for more than 60% of the time invested. Accurate sample prep is therefore an essential component for successful chromatography, ensuring sample integrity and preventing contaminants that may otherwise impede analyte detection, increase baseline noise and reduce sensitivity. Poor peak shapes, interferences and co-elutions can lead to repeat analysis. Experience what your lab is truly capable of and fast track your groups research to success!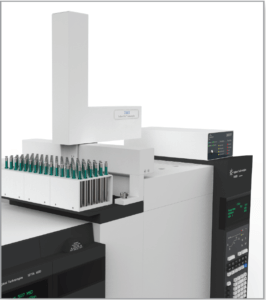 7800 Sorbent Pen™ Autosampler
The 7800 Autosampler automates the analysis of up to 90 Sorbent Pens™ using 3 removable 30 position trays. The ability to use Sorbent Pens™ to "pre-extract" the headspace in a sample vial, or perform air sampling in almost any location, followed by rapid delivery to a GCMS creates the ideal combination of sensitivity and efficiency. The 7800 delivers each Sorbent Pen™ to the 5800 SPDU for GCMS injection and bakeout. After bakeout…
Read MoreMinimize
the 7800 returns the Sorbent Pen™ to the sealed sample tray leaving clean Pens that are usually ready for resampling without further conditioning. The Sorbent Pen's unique triple o-ring seal ensures leak tight connections, while the design of the 5800 provides rapid and reproducible transfer to the GC column to support quantitative headspace analysis. The combined power and simplicity of the Sorbent Pen™ and 7800 / 5800 SPDU provides an ideal solution for recovering a vastly extended range of compounds in the sample headspace, allowing development of hundreds of applications compatible with virtually any matrix.
Headspace Sorbent™ Pen Brochure
Introducing Entech's exciting new Sorbent Pen™ technology. The most versatile extraction and sample preconcentration technology available for GC and GCMS. Sorbent Pens™ combine the features of SPME and classical ¼" adsorbent traps in a design with far more flexibility and enhanced performance.